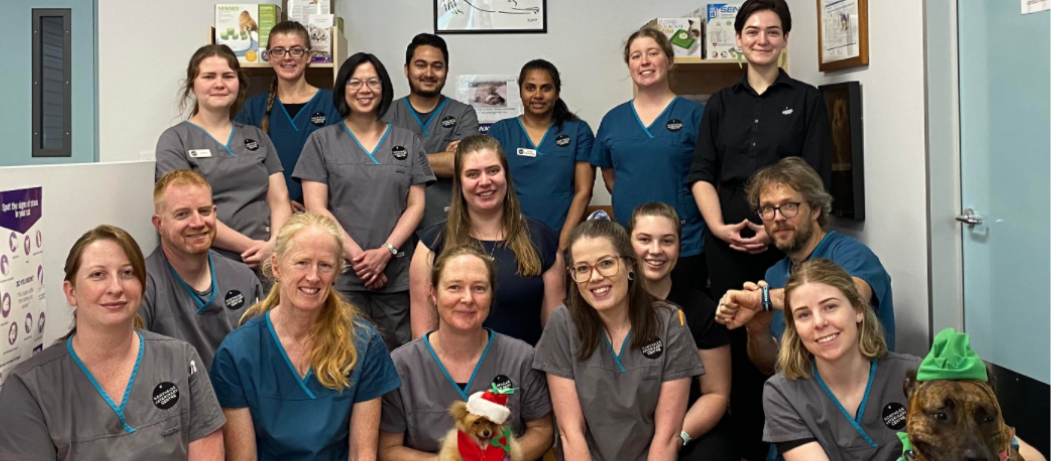 At The Northside Veterinary Centre, we believe in a team based approach for the care of your pets.  Libby and Winston have worked together in Canberra for over 18 years, and our team of 11 vets have over 90 years combined experience. All medical and surgical cases are discussed by the vets each day, so every patient gets the benefit of at least five minds, not just one! We strive to deliver a compassionate service for both our patients and their owners. In addition to the vets, our dedicated receptionist team and qualified nursing team love working together to make every visit as comfortable as possible, for both owners and pets.  
Directors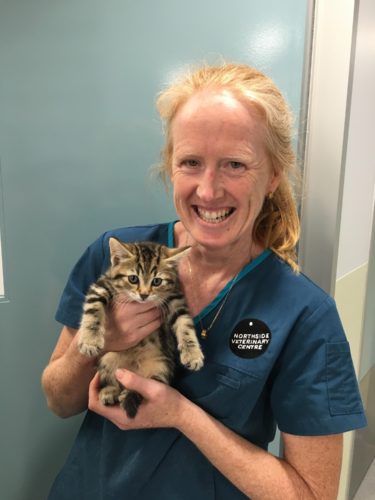 Dr. Libby Adamson
BVSc (Hons), BAnSci, MACVSc (feline medicine)
Dr Libby Adamson graduated from the University of Melbourne in 1995, after a childhood on a beef and sheep farm surrounded by a farm menagerie. Libby worked in mixed practice in rural areas, first in Victoria and then for a further 5 years in the UK. After a short stint in the Northern Territory, Libby settled in Canberra. She is now well established in the North Canberra community as an experienced small animal clinician. In 2005, her passion for cat health led her to undertake membership of the Australian College of Veterinary Scientists in feline medicine (MACVSc). She has pursued further study since, specifically in ophthalmology and behaviour medicine. Libby has volunteered in Morocco and post-tsunami Sri Lanka in veterinary health programs. In recent years she has participated in indigenous dog health programs in central Australia with the Canberra Mob. Her time outside work is spent hanging out with a young and exuberant cattle dog cross, Frankie, and riding bikes.

Dr. Winston Oakes
BVSc (hons), BSc(vet), MACVSc (small animal dentistry and oral surgery), MANZCVSc (small animal internal medicine)
Winston grew up in Canberra, where he decided (at the age of eight), that he wanted to be a vet. In 1999 he became one, graduating from the University of Sydney, then worked in large hospitals in Adelaide and Sydney as well as in the UK. In 2004, Winston returned to Canberra, and settled there with two Siamese-cross cats (Archie and Mehitabel), two labradors (Casper and Cedric), several chooks, guinea pigs, a bearded dragon, and four children. Winston's veterinary interests include internal medicine, cardiology, ultrasonography and dentistry. In 2008, Winston was admitted as a member of the Australian and New Zealand College of Veterinary Scientists in small animal dentistry and oral surgery. Then in 2011 he was also awarded membership in small animal internal medicine. He often sees referral cases for advanced dentistry, ultrasonography and internal medicine, and has given lectures to other veterinarians at the AVA conference and College Science Week.
Vets

Dr. Jenny Coonan
BVBiol/BVSc(Hons1) GC SAUA
Jenny graduated from Charles Sturt University in 2013, and for the past 6 years has worked in small animal practices around the Canberra region. She is a self professed "cat person", and is currently completing a year long distance education course in feline medicine. Jenny has a soft spot for all cats, but particularly loves working with cats to help keep them comfortable and well during their senior years.  She enjoys cat dental procedures and loves to see cats behaving like kittens again once they have pain free mouths.  She also has an interest in ultrasound, and that it provides a non invasive way to get more information.  She has recently completed a postgraduate course in abdominal ultrasound and is also developing skills in ultrasound of other body systems.  Outside of work, Jenny enjoys spending time outdoors and watercolour painting.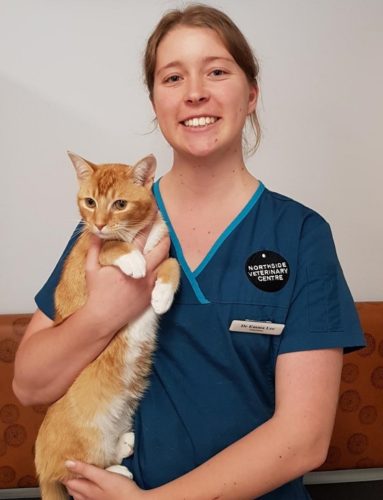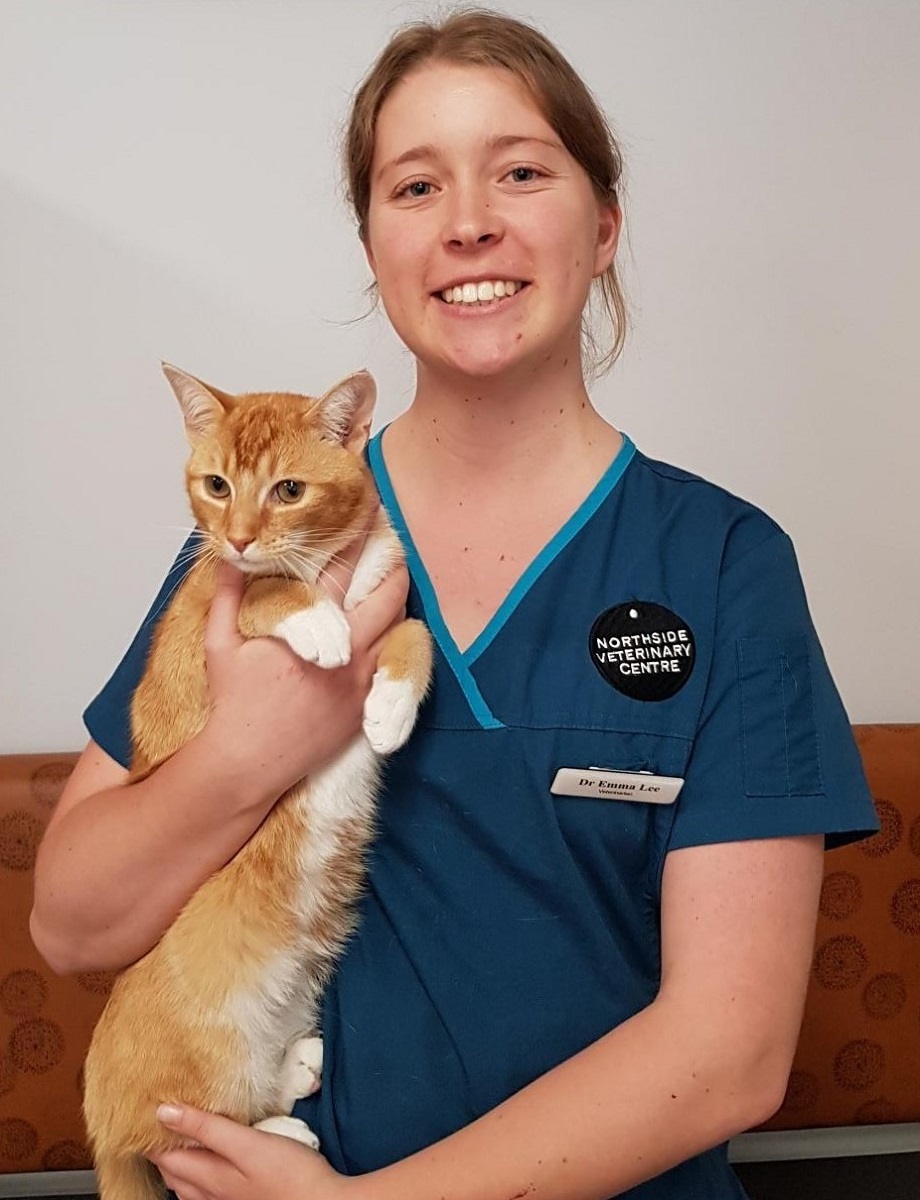 Dr. Emma Lee
BVBiol/BVSc(Hons1)
Emma grew up on a beef and sheep property on the Far South Coast of NSW, and graduated from Charles Sturt University in 2016. She worked in a mixed practice in Wagga Wagga for 12 months, before joining the team at Northside in September 2017.  Emma completed a post-graduate course in neurology in 2018. Emma has a particular interest in physical therapy and working with our geriatric patients. She also loves new puppy visits (who wouldn't?), and firmly believes that puppy cuddles make the world a better place.
Outside of work, Emma enjoys soccer, gardening, and wrangling her menagerie – she currently shares her home with 2 cheeky kelpies (Roxy and Ruby), a sassy three-legged kitty (Skip), 2 naughty pet sheep (Lambington and Rosie), a handful of chickens, and her partner Nic.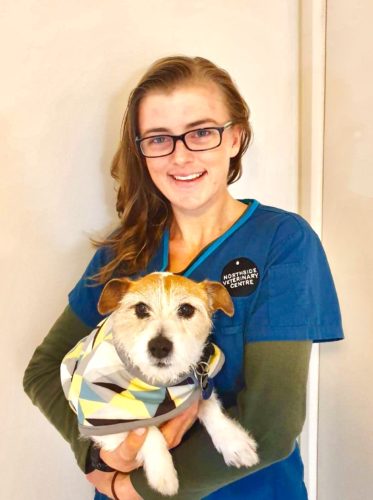 Dr. Cate Chandler
BVBiol/BVSc(Hons I)
Cate grew up in the Hawkesbury NSW and developed a passion for animals from the beginning, spending her time riding horses and showing cattle from a young age. After graduating from Charles Sturt University in 2017 she moved to Bathurst NSW where she spent two years in a mixed animal veterinary practice.
In September 2019 Cate moved to Canberra to join the team here at NVC. She holds a strong passion for all things surgery and is enjoying improving her skills in imaging and dentistry. Outside of work Cate trains and competes in long distance running and triathlon. She also enjoys hiking and spending time with her family including her Jack Russel "Nora."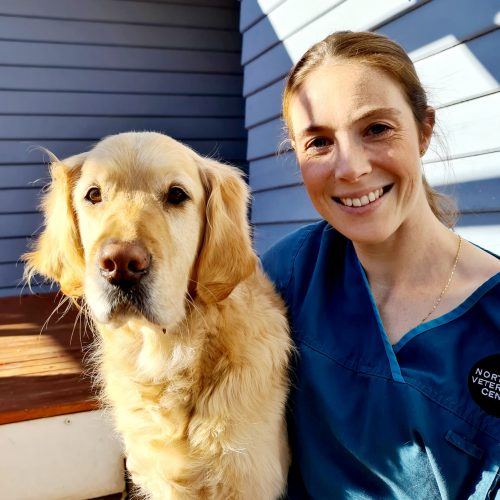 Dr. Natalie Meades
BAppleSc, BVBiol/BVSc (Hons)
Natalie grew up in Christchurch, New Zealand gaining an applied science degree at Massey University. After graduating vet school from Charles Sturt University in 2017 she began working in Canberra. She has a strong interest in all things dentistry and oncology but particularly loves making great relationships with pets, and especially their owners. She is currently studying a master of veterinary medicine through Massey University. Outside of work you will find Natalie taking advantage of the amazing Canberra outdoors, as well as sampling the great coffee and wine Canberra has to offer. She has two great loves of her life; a golden retriever Boston, and a cat, aptly named Winston!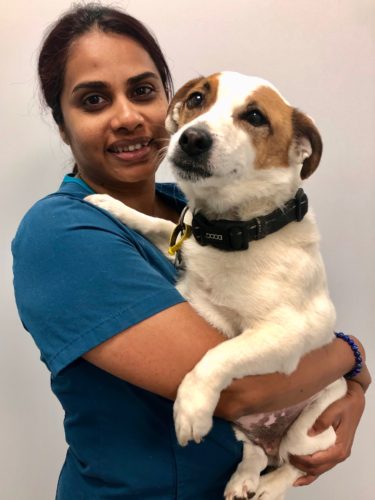 Dr. Dilly Abeyawardane
BVSc PGCertECC (Hons 1)
Dr Dilly grew up in Sri Lanka and moved to Melbourne to study Veterinary Science at the University of Melbourne, graduating in 2006. As a new graduate she worked at the RSPCA (VIC), during which time her passion for animal welfare grew and also developed a special interest in Emergency Medicine. A scholarship from the RSPCA ensued and culminated in the completion of a Sydney University Distance education course in Emergency and Critical Care Medicine and joined the team at Lort Smith Animal Hospital in order to pursue her interest in Emergency Medicine. Since moving to Canberra in 2012 Dilly has enjoyed working in a mixture of emergency and general veterinary practice and completed a Postgraduate Certificate in Emergency Medicine and Critical Care from the University of Melbourne. She has been a part of the NVC vet team since early 2019. Dilly is one of the founders of Pets in the Park Canberra where she volunteers her services to provide free veterinary care for pets of homeless people. Dilly is an avid traveller and has done volunteer vet work in Sri Lanka, Cook Islands and Myanmar. She is the proud mum of two rescue cats and in her spare time she enjoys all things culinary, be it cooking, baking or dining.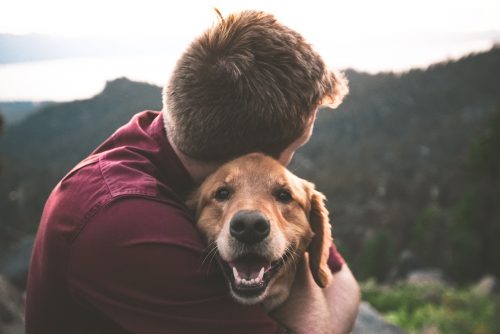 Dr. Stephanie Harrop
BVSc (Hons), BAnSc&Mgt, MVS, PgC (Small Animal Ultrasonography)
Stephanie graduated from the University of Melbourne in 2011 and has been working in small animal general practice since. Canberra born, Stephanie has returned to the A.C.T and joined the Northside Veterinary Centre team in April 2021. Stephanie has completed a Masters in Veterinary Studies with Murdoch University focused on internal medicine.  She has also completed a Postgraduate certificate in Small Animal Abdominal Ultrasound. Stephanie's veterinary interests include internal medicine, diagnostic imaging, cats and senior petcare. Outside of work Stephanie enjoys bushwalking, bird-watching, Amigurumi (the Japanese art of crochet toys) and fine dining. At home she lives with her husband Huw and their senior cat Spike.
Dr. Heidi Beruter
BVSc Grad Dip VCS
Heidi graduated from the University of Sydney in 2001, and joined the Northside Veterinary Centre team after returning home to Canberra from the USA.  Heidi has completed further study small animal nutrition and thrives on longterm patient care.
Dr. Clare McCook
BVSc
Clare graduated from James Cook University in the class of 2020, after growing up in the tropical heat of North Queensland alongside dogs, cats, chooks, horses, and lots of wildlife. She worked in mixed practice in Canberra before joining Northside Vet Centre in January 2022.
Clare's veterinary interests include clinical pathology and soft tissue surgery. When consulting, she loves puppy and kitten visits (because they're cute, as well as helping owners give them the best start in life), but she is also devoted to helping older pets remain as comfortable as possible. She gets a special treat watching older animals rediscover their inner puppy or kitten after arthritic pain is relieved.
Having adapted quickly to Canberra's much colder weather, when not working Clare is often enjoying the many outdoor pursuits our region has to offer like bushwalking, skiing, mountain biking, and kayaking.
Nurses

Renée
Renée joined Northside Veterinary Centre in January 2021.  She is originally from the French side of Canada but moved to Australia in 2005 after living several years in the United States. While in Australia, she has earned a Certificate IV in Veterinary Nursing and a Certificate IV in Companion Animal Services (Behaviour Training).  Renée also holds an Associate of Science degree in Veterinary Technology from the School of Veterinary Medicine at Purdue University (Indiana, USA).  She is a registered veterinary nurse under the Australian Veterinary Nurse and Technician (AVNAT) Registration Scheme. Renée obtained her first job in a veterinary hospital at the young age of 16.  She has been practising vet nursing full time since 2009.  From 2016 to 2018, Renée left small animal practice to work with laboratory animals in medical research at the ANU.  Rich from this experience, she then returned to small animal practice in October 2018.  Although she has completed her formal education, she continues to upgrade her skills in all areas of veterinary nursing.  Her favourite areas of study are clinical pathology, dentistry, nutrition and physiology. Renée is happily married to an AFL football fan who barracks for Collingwood.  Together they dote over two beautiful shelties and a ragdoll cat. Her hobbies include running, cycling, swimming, kayaking, ice skating, table tennis and Zumba.

Tanya
In her spare time, Tanya enjoys horse archery (swipe to see a picture!), running, and chasing 3 kids everyday. At work, Tanya enjoys the big dental procedures and orthopaedic surgeries. Tanya knew very shortly after meeting a stray kitty that we had at the clinic that she was going to adopt her – her name is Luna.
Mel
Mel is our Head Nurse at Northside Vet. This means she organises the nurse roster, and each day organises how the teams of the day are going to work (which nurses are working with which vet and which patients!). She's also the go-to for any random question or comments that staff may have! Mel is the Queen of dental procedures at Northside Vet, and Pugs hold a special place in her heart, as her last dog was a Pug. ️On weekends, Mel enjoys going on long 4 wheel driving trips!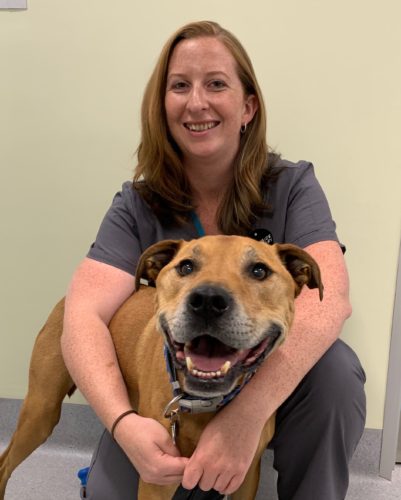 Tash
Tash has been one of our much loved nurses for nearly three years. Tash started with us as a receptionist whilst she was studying for her certificate 4 in veterinary nursing. Some may know Tash from our wonderful puppy classes, which she has been running for just under two years. Tash has a massive soft spot for staffies! Pictured is Tash with her pup Garry.

Glenn
Glenn changed careers back in 2018, starting out in the veterinary Industry as a receptionist at the Northside Veterinary Centre.  Since then he has become a highly valuable member of the nursing team as well as running some of our Puppy Classes. With his best friend Bickley and faithful Molly, he can be seen walking the parklands around Southern Canberra.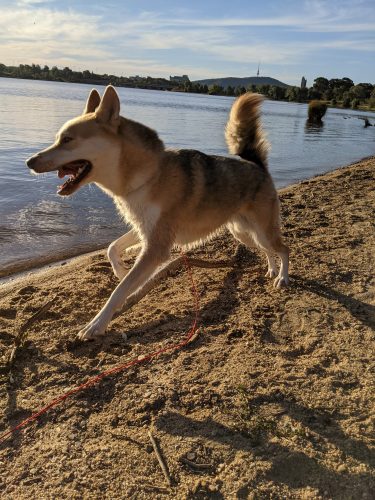 Kit
Kit is currently studying her vet nursing cert IV. She has a soft spot for Spitz breeds including her own husky cross Sergeant Fluffy Paws, seen in the photo!
Felicia
Sarah T
Sarah B
Reception Team

Tanya
Tanya started working with the team at Northside Vet Centre in May 2018. She works as part of the reception team working to greet and make sure everyone who comes in and their pet feels comfortable and happy. Tanya also runs the puppy pre-school classes for young puppies to learn and socialise in a positive environment. She studies companion animal behaviour courses to further her knowledge and care of the puppies and out of interest for her own two chihuahuas training; Bane and Harley Quinn.

Ashli
Thy
Bec